Many people may get irritating when having to install all the applications after reinstalling your operating system, which may take up to few hours. Here is a free web-based service which provides bulk-installation, named as AllMyApps. AllMyApps allows the users to select all their favorite applications and install all of them with just 1 click to have all their selected applications installed on their PC.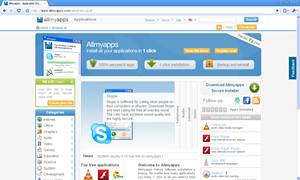 To make it easy for users to select the applications, all the applications are grouped into various categories such as Internet, Office, Graphics, Audio, Video, Games, Education, Science and etc. It also features with the option which allows the users to save a list that can be shared with friends or family and installed in 1 click when needed.
"Installing applications on Linux is easy but nobody knows it!" comments by Thibauld Favre, CEO of Allmyapps. "With Allmyapps, we wanted to come up with the sexiest software installation tool to make people realize how easy it is to install applications and how large the catalog of available applications is."
AllMyApps is compatible with Ubuntu systems and Windows systems including Windows XP, Windows Vista and Windows 7. The Allmyapps service is available at allmyapps.com with Microsoft Internet Explorer 6 above, Firefox, Goolge Chrome and etc.