Do you have documents, files or websites which need to be opened most of the time when your computer is turned on? You may feel frustrated to repeatedly browse to files and open one by one or launch web browsers to visit to the sites each and every time you turn on computer. If you see the need to have a utility that is able to launch your selected files or open your frequently accessed websites automatically once computer is starting up, now there is a tiny utility, named as Instant File Opener that can provide you such a great service.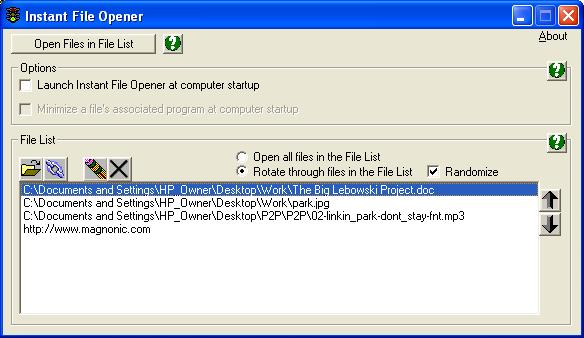 Instant File Opener is a freeware that is able to help you open files with their associated program simultaneously each time you start a Windows session. It allows you to add any type of files such as text files, video files, programs, website URL and etc into the File List. If you would like to minimize the launched files once computer is starting up, you can do so by enabling "Minimize a files's associated program at computer startup". Besides, you can configure to open all files or rotate to open them one by one each time you logon to Windows through the File List. For file opened with rotation, you can even choose to open a file randomly or by sequence. Files or URL added in the File List can be deleted at anytime if you no longer need them to be auto launched once Windows restarts.
Instant File Opener v1.0.0 is absolutely free to download. It comes with two packages, with one known as portable package without any installation required and another one is installer package which requires you to install. The portable package is compatible to run on Windows Vista/XP/2K, whereas installer package is running well on Windiws ME/NT/98/95.