Previously we mentioned about Linux based SimplicITY PC targeted for senior citizen, and if you wonder if there is any that is meant for children, the recently announced Kid Classmate Tablet PC could be one of them. Being powered by Intel Atom N450 processor, the new machine with the name of Kids Classmate is a flagship product from KidComputers.com targeted for the niche market with much lesser competition as compared to netbook market.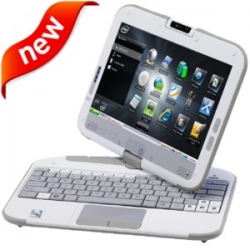 Physically, the machine looks more like a tablet PC with a convertible clamshell tablet PC design. Equipped with 10.1-inch color wide screen LCD at 1024 x 600 resolutions, it offers sufficient viewing area for children to type, draw or even read e-book just like conventional netbooks. Since it is targeted for kids, it is claimed to be enhanced with kid-friendly GUI with touch sensitive interface for quick and pleasurable learning experience. Internally, it is powered by smaller form factor thermally efficient Intel Atom N450 clocking at 1.66GHz. Some other hardware specifications include a 1GB DDR2 RAM, 160GB SATA hard disk drive, 10/100 Ethernet port, 802.11 b/g/n Wireless LAN, built-in 1.3MB webcam, 2 x USB 2.0 ports as well as switchable water resistance keyboard in case touch screen is not preferred when dealing with document typing.
However, its retail pricing of $649 is considered quite expensive among all the Intel Atom based netbooks or tablet PCs, particularly due to its touch screen LCD module as well as preloaded Windows XP Home Genuine Operating System license copy in the system.