Intel has officially named its upcoming Nahelem processor as Core i7 under Intel Core family. This next generation processor, a successor of the Core 2 Duo series, will be based on a totally new Intel microarchitecture with native quad-core on a single die and further enhanced with Intel Hyper-threading Technology targeted for high end desktop and server markets.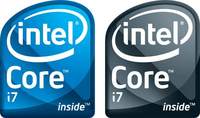 The Intel Core i7 processor is featured with the integrated memory controller and QuickPath interconnect (almost similar to AMD Hypertransport). By having these new feature sets, it is claimed to be able to scale up the performance per watt efficiency significantly. That is not all, it is further enhanced with Hyper-Threading technology that enables the quad-core processor to handle up to eight software threads simultaneously.
Some are curious on why Intel marketing folks named it as i7 since it is not based on 7 cores nor the seventh generation of microarchitecture processors that the company has designed with. Anyway, Intel doesn't disclose anything related to how they come out with the naming. But one thing for sure, the i7 will not be the only processor under this family as there is a plan to roll out additional high performance processors with seperate identifiers as a means of feature sets differentiation.
The Intel Core i7 processors are expected to be released by end of this year. Besides these normal series, there will also be an Extreme Edition series which uses black logo targeted for gaming segments that require extremely high processing power.