Intel Core i series of Nehalem-based CPU processor, such as Core i5 and Core i7, features a unique Intel Turbo Boost technology. The Turbo Boost technology allows CPU clock speed to be dynamically increased on demand when required. Turbo Boost and higher processing speed of CPU is activated when the operating system requests the highest performance state of the processor.

Turbo Boost, upon request by the operating system, can dynamically increase the processor clock frequency in the increments of 133 MHz on short and regular intervals until maximum frequency specified for the processor model or the thermal headroom threshold has been reached. Intel Core i5 and Core i7 operates well below its thermal and electrical limits, allowing the Turbo Boost to "overclock" the CPU clock frequency and speed.
For user who interested to know what's the actual current processor speed is running at, or for people who wonders if Turbo Boost actually works or kicks in, Intel provides an Intel Turbo Boost Monitor application. The Intel Turbo Boost Monitor app is a Microsoft Windows sidebar gadget which provides a simple display of increase in processor frequency when applications request and the Intel Turbo Boost technology is active delivering more performance.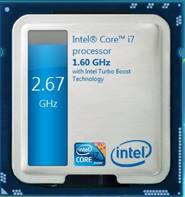 The Intel Turbo Boost Monitor displays the maximum operating frequency of the processor in the past one second, with the increase in frequency shown in a blue bar. As the blue bar only rise when the Turbo Boost kicks in, it can be used to determined if the Turbo Boost is present or not in the CPU, or has been enabled or disabled in the BIOS.
Download Intel Turbo Boost Technology Monitor: TurboBoostSetup.exe
Intel Turbo Boost Technology Monitor supports Intel Core i5, Core i5 mobile, Core i7, Core i7 extreme edition, Core i7 mobile and Core i7 mobile extreme edition processor. It does not work on CPU with no Turbo Boost feature. The gadget works in Windows Vista 32-bit and 64-bit editions with Service Pack 2 and Windows 7 32-bit and 64-bit editions. In Windows Vista, the gadget will have to be manually added to Windows Sidebar from gadget gallery.
Read the FAQ for Intel Turbo Boost Technology Monitor before using the gadget.