In order to point out the new and improvement in the latest version of SQL Server 2008 Release 2 (R2), Microsoft press is now giving away "Introducing Microsoft SQL Server 2008 R2" digital e-book in PDF and XPS format. This book is authored by Ross Mistry (technical architect at the Microsoft Technology Center (MTC) in Silicon) and Stacia Misner (the founder of Data Inspirations).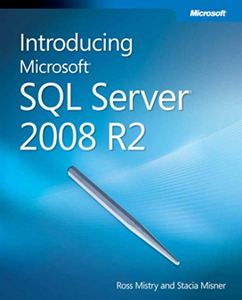 The "Introducing Microsoft SQL Server 2008 R2" e-book is aimed to anyone who has an interest to understand the exciting enhancements and new capabilities of SQL Server 2008 R2. The Book has been organized into two parts: Part I, "Database Administration," is written with the DBA in mind and introduces readers to the numerous innovations in SQL Server 2008 R2, and Part II, "Business Intelligence Development," readers discover components new to the SQL Server data platform as well as significant enhancements to the reporting component.
Chapters in "Introducing Microsoft SQL Server 2008 R2" e-book:
Chapter 1: SQL Server 2008 R2 Editions and Enhancements.
Chapter 2: Multi-Server Administration.
Chapter 3: Data-Tier Applications.
Chapter 4: High Availability and Virtualization Enhancements.
Chapter 5: Consolidation and Monitoring.
Chapter 6: Scalable Data Warehousing.
Chapter 7: Master Data Services.
Chapter 8: Complex Event Processing with StreamInsight.
Chapter 9: Reporting Services Enhancements.
Chapter 10: Self-Service Analysis with PowerPivot.
The "Introducing Microsoft SQL Server 2008 R2" e-book is available as a free download without stepping through any registration, from Microsoft in PDF or XPS format:
PDF Format:
XPS Format: