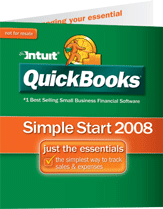 Miss out the free Microsoft Office Accounting 2008 Professional activation product key, but in desperate need of a decent accounting software? Other than Microsoft Office Accounting Express, the maker of popular QuickBooks financial software, Intuit has QuickBooks Simple Start on free download list.

QuickBooks Simple Start is an easy-to-use software that helps you organize user's finances in one place and manage the business better. The accounting software helps user to get ready for tax time, stay organized and look more professional, and it's ideal for newer small businesses with simple accounting needs.
QuickBooks Simple Start 2008 features ability to track expenses money spent, sales earned or received with support to record invoices, estimates, payments, sales receipts, deposits, checks, payroll, card and credit card expenses. Accountant and sales department can also uses the application to track thousands of customer and vendor contacts, simplify tax preparation and create financial, sales or tax reports.
However, do note that QuickBooks Simple Start is for first–time QuickBooks users. It cannot import data from prior versions of QuickBooks: Basic, Pro, Premier, or Enterprise editions, Quicken, or Peachtree. Nonetheless, QuickBooks Simple Start 2008 given away for free is a full version and not a trial version product, with no expiry date, no usage limit and functionality restriction.
QuickBooks Simple Start 2008 for Windows Free Edition can be downloaded from intuit.com with email registration. To directly download the setup installer for QuickBooks Simple Start 2008, use the direct download link for version 2.2.1.7: Setup_QuickBooks_SimpleStart2008.exe.
Intuit QuickBooks Simple Start Free Edition 2009 has been released.