Iolo System Shield 3 Internet Security is a combo pack security solution which offers users a comprehensive protection shield against viruses, malware, spyware, internet spam, adware, rootkits, worms, etc that spread through internet and it can set up personal firewall to block and prevent attack from hackers or unidentified internet thefts. This US-based security protection software, Iolo System Shield 3 Internet Security, integrates iolo Antivirus, iolo Personal firewall, Spython AntiSpyware, Security Optimizer and SystemGuard within the package and costs $49.95 for up to 3 PC license annually with unlimited tech support.

Users who might intend to try Iolo System Shield 3 Internet Security now can grab a great opportunity offered by iolo technologies to enjoy a free 1-year license key for this internet antivirus software as part of promotion exclusively for Iolo System Shield 3 Internet Security supporters. To get a free subscription license with genuine and working license key for this well-known antivirus software, users can follow the steps below:
Firstly users need to log on to the promotional page via the link here: http://www.iolo.com/landing/softwaredotcom/200710/sspromo.aspx. Users will be greeted with a message indicating: "Congratulations on your free copy of System Shield 3!"

Clicking on to the "Continue" button will lead users to the iolo technologies Shopping Cart. Users will notice the product price of $49.95 for System Shield 3 will be strike off and reduced to $0.00. Click on to the "Secure Checkout" to proceed.

Fill in the details in the as required in the billing page as shown below.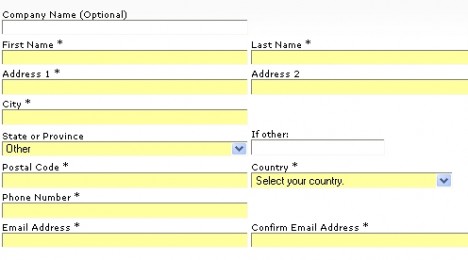 Click on to the "Review Order" button to view the ordering details. Users will find the software price as indicated in the bill is zero. Users will thence be required to click the "Submit Order" button to proceed with the order.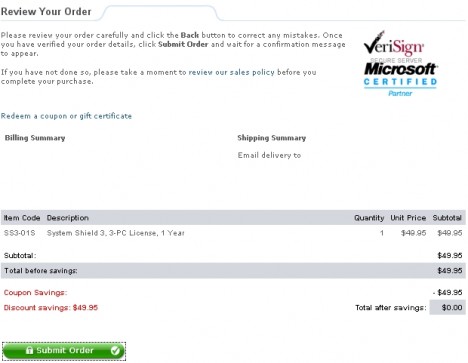 Once the registration is completed, users will be notified and given an order number. So what is next? Now users need to check their email account. iolo will immediately send a message containing the software licensing details as well as the activation key to the email address registered. Users are advised to contact iolo if they don't receive any confirmation message from iolo within 30 minutes.

Refer to the confirmation email received; users will be given a serial number/license key under the Software Licensing Information heading. Users can thence download the iolo System Shield 3 Internet Security via the link here and start installing. Choose "I own System Shield 3 and can enter my serial number later" option and enter the serial number given accordingly to enjoy a full 12-months' free protection from System Shield 3.