Feeling uncomfortable viewing iPad screen on flat surface or table? Or getting pain and tired holding iPad which is not too heavy but not so light either, especially when you're laying on your bed? A pillow for iPad might be what you need to get in order to use iPad comfortably and conveniently.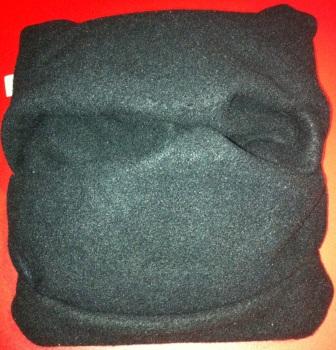 You must be wonder why does iPad need a pillow? The iPad Pillow, Gadget Freeway, is actually a stand for iPad that made up of a pillow and compartment built with wrapped internal plastic rod, which able to hold iPad vertically, horizontally or at an angle. Unlike many stand accessories for iPad, iPad pillow is light, and works virtually on any surface, including soft or uneven surface, to hold iPad in comfortable and right viewing position.
The iPad pillow manages to keep iPad straight no matter where the user is, whether in bed, on the table, on the lap, on the couch, on a plane and virtually anywhere else. Unlike other stand accessories for iPad, the pillow is extremely light, portable and soft, which makes it easier to carry around especially when traveling, where iPad user already has additional burden of the device itself.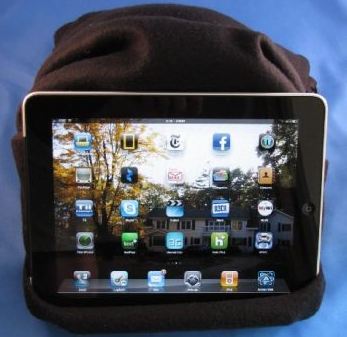 The main advantage of iPad pillow is that it's very easy to slide in the iPad into the compartment, and set the pillow into position. There is no need to worry about iPad may hit or knock with the hard object as the pillow is essentially a soft cushion. The pillow allows iPad to be reclined into dozens of different angles. The iPad can be used in portrait or landscape mode with the pillow too.
The iPad Pillow is an innovative stand for iPad that works in virtually any environment to place iPad in for comfortable usage. It acts as an additional (though slight) protection for iPad, which is prone to hard fall when hold in hand. And when it holds iPad, it holds it reliably and stably. If you don't mind, the iPad pillow can be an essential travel accessory too, as your pillow to sleep.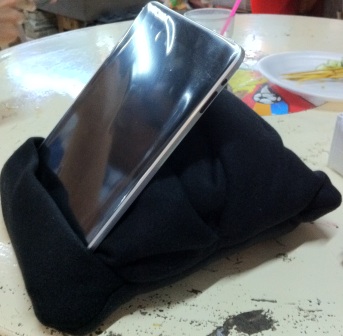 Using iPad Pillow to hold iPad when dining
I very much like the fact that the iPad Pillow is not made of plastic. The whole pillow is covered by fabric, thus the iPad Pillow is safe to wash, so don't worry it's getting dirty. One major letdown is that the iPad Pillow limited functionality. It's true that it serves its purpose perfectly, i.e. hold iPad, but it's probably better if manufacturer can add in extra features such as side pocket for stylus, pen, USB charging cable and etc.
In conclusion, iPad Pillow is an worthy accessory for iPad user, and it's available at the price tag of $29.00 from gadgetfreeway.com
Rating: 8/10
Disclaimer: My Digital Life received an iPad Pillow from Gadget Freeway for the review.