The highly anticipated next generation of iPhone, which is expected to be named as iPhone 5, may indeed be called iPhone 4S after all to reflect that the phone is probably just a minor upgrade from iPhone 4 without major drastic change. The naming convention follows iPhone 3GS, which was itself a minor feature upgrade from its predecessor, iPhone 3G.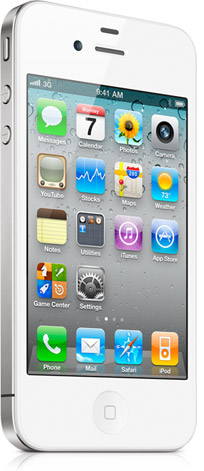 According to an analyst from Jeffries, Peter Misek, quoted on Forbes, the upcoming iPhone 4S will include minor cosmetic changes and HSPA+ support, with upgrade to A5 dual-core processor and better cameras. The iPhone 4S powered by A5 dual-core chip has been started to making the round in April 2011 after a new iPhone prototype seeded to high-end game developers had been known to have an unofficial name of iPhone 4S, and was spotted running on an A5 chip.
In addition, the iPhone 4S is likely to be announced to available for Sprint, T-Mobile and China Mobile mobile carrier customers as well. If this is true, it means that iPhone is now available on almost every major carriers worldwide. Verizon iPhone 4 has been using Qualcom MDM6600 chip which is capable of communicating with GSM/HSPA+ networks deployed by T-Mobile and AT&T as well as CDMA networks used by Verizon and Sprint. So it's just a matter of programming tweak to enable the upcoming iPhone 4S to work on any network it's been used or roamed in.
For 4G lover, the non-inclusion of 4G network, specifically LTE support, is a major disappointment. However, the inclusion of HSPA+ is almost equaled to 3.5G, and is likely boast data transfer speed significantly too, as HSPA+ theoritically supports data rates of up to 84 Mbit/s in the downlink and 22 Mbit/s in the uplink, while HSPA only supports data rates of up to 14 Mbit/s in the downlink and 5.8 Mbit/s in the uplink. It also means that many mobile service providers have more time to roll out 4G networks, as 4G support on iPhone has been seemed as a major catalyst for mobile carriers to embark on the expansive network upgrade.
Of course, these claims are not confirmed nor denied by Apple, who always keep secret on its product pipeline information.
Once thing still uncertain is expected release date of iPhone 4S (iPhone 5). Normally Apple iPhone is announced during WWDC held mid-year, with the phone physically available by June or July. There is speculation that the upcoming iPhone, be it called iPhone 4S or iPhone 5, will only available at September.