Do you want to turn your iPhone and iPod into a wireless stereo device? It can be done by plugging in Infinixx Bluetooth A2DP adapter.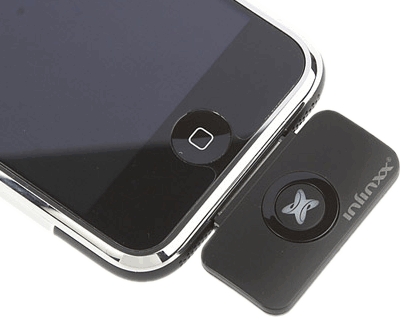 iPhone (both 2.5G and 3G) does not come with an A2DP Bluetooth in place, but it can be done easily with Infinixx adapter costs $62. The Bluetooth A2DP adapter works fine with iPhone, iPod touch, iPod nano, iPod classic, iPod video, iPod color and iPod mini and turn them into decent wireless stereo device. Furthermore, this adapter adds stereo Bluetooth functionality to any iPhone so you can use any stereo Bluetooth headset with it.
Infinixx Bluetooth A2DP adapter seems to be the only hope for wireless stereo music on iPod and iPhone in near future until Apple decides to put A2DP in the iPhone, which will shorten the battery life even more.