The leading provider of Web communication services made for mobile devices, iSkoot has recently announced that its iSkoot For Skype mobile VoIP (Voice over Internet Protocol) application is now available for download in Google's newly launched Android Market. It's the first mobile VoIP solution for Android handsets (such as T-Mobile G1), allowing the users to keep in touch with friends, family and business colleagues all over the world anytime.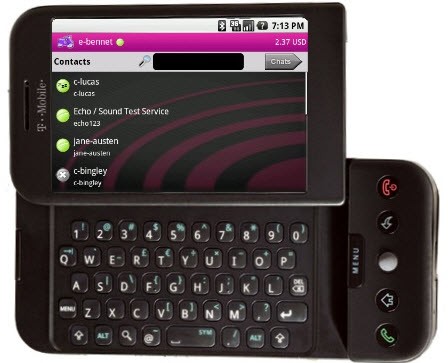 "We are honored to be the first mobile VoIP application available in the Android Market because we are dedicated to bringing carrier-grade Web communications services to mobile phones and platforms around the globe," said Jim Hudak, iSkoot Vice President of Business Development. "iSkoot continues to work on delivering innovative products that give people a rich mobile experience so that they can cut the cord from their desktop."
In addition to Android-based phones, iSkoot for Skype mobile VoIP application is also available for most mobile platforms, including J2ME, S60v3, UIQ, Palm, Windows Mobile and BlackBerry.
According to the company, "iSkoot for Skype leverages the voice-optimized circuit-switched wireless networks of mobile carriers, allowing for full operation even without access to WiFi or 3G networks and ensuring the best possible call quality. Normal carrier voice and data charges always apply."