The new version of iTunes 10.5 has been released by Apple ahead of arrival of highly anticipated and long awaited iOS 5. iTunes 10.5 is essential to support iOS 5 and iCloud, as well as bring some minor changes to the program's user interface.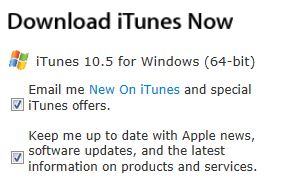 The changelog and features of iTunes 10.5 as on release notes:
iTunes in the Cloud – iTunes now stores your purchases in iCloud and makes them available on your devices anywhere, any time, at no additional cost.

Automatic Downloads – Purchase music from any device or computer and automatically download a copy to your Mac and iOS devices.
Download Previous Purchases – Download your past music, TV, app, and book purchases again, at no additional cost. Previous purchases may be unavailable if they are no longer on the iTunes Store.

Purchase History – See a history of everything you've bought from iTunes.
Sync with your iPhone, iPad, or iPod touch with iOS 5.
Wi-Fi Syncing. Automatically sync your iPhone, iPad, or iPod touch with iTunes any time they're both on the same Wi-Fi network.
iTunes Match – Store your entire music collection in iCloud and play it on any iPhone, iPad, iPod touch, Apple TV, Mac, or PC.
iTunes 10.5 no longer requires or includes QuickTime.
Download iTunes 10.5 from http://www.apple.com/itunes/download/. Alternatively, you may click on Help -> Check for Update, but apparently the automatic update channel is not updated with new version yet.
iTunes 10.5 Direct Download Links
iTunes 10.5 for 32-bit (x86) Windows: http://appldnld.apple.com/iTunes10/041-2598.20111011.9Cp3o/iTunesSetup.exe
iTunes 10.5 for 64-bit (x64) Windows: http://appldnld.apple.com/iTunes10/041-2599.20111011.rptNg/iTunes64Setup.exe
iTunes 10.5 for Mac OS X: http://appldnld.apple.com/iTunes10/041-2597.20111011.PigVe/iTunes10.5.dmg