When attempting to sync iTunes library with iPhone, the following error may occur when iTunes trying to sync and install paid and/or free apps to iPhone:
Some of the apps in your iTunes library were not installed on the iPhone because one or more errors occurred.

For a list of apps that could not be installed, click the + below.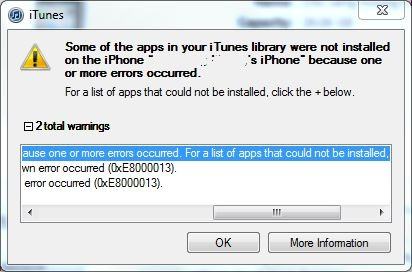 When click on the "+" sign to expand the details, the app(s) that have problems or issues to sync or install on the iPhone will be listed with 0xE8000013 error:
The app "Application Name" was not installed on the iPhone because an unknown error occurred (0xE8000013).
The error normally happens when users trying to sync apps especially after a restore of firmware iOS software, although it may happen on regular sync and installation of new apps to iPhone. The issue does not happen when sync music and movies.
Normally, the app can be installed and synced successfully with iPhone once user re-sync the iPhone (either by clicking on Sync button in iTunes or plug out and plug in the iPhone to computer again) with iTunes library.
However, if the apps still cannot be installed, try the following suggestions to troubleshoot and resolve the issue.
For iPhone which just had its firmware OS software (iOS) restored or updated, download the latest version of the application to install by checking for updates.

If the firmware restored is of older version, upgrade the iPhone to latest version of iOS.

There may be issue with USB connection. Ensure that the iPhone is directly connected to a high speed USB 2.0 port on the computer and not plugged into a hub, keyboard, or monitor.
Try to install the apps via App Store on iPhone instead.
Delete the affected apps from iPhone (if it's already installed), and try to re-sync.
Remove the application from iPhone (touch and hold the app, then tap the "x") and from iTunes library (Right click and choose Delete, then remove and move the selected application to Trash or Recycle Bin.

After clearing the device and iTunes from the apps which has problem installing, re-download and re-install the app.

Move the apps with error out from the "/iTunes/Mobile Application" folder, then restart iTunes and sync.

Tip: You can try to delete the apps from iTunes library too.