It is common to share contacts from your mobile phone to others and if you wonder how you can do it effectively on your iPhone, the app mentioned here could be the right option for you. Named as BT Contact Share, it allows faster way to share contacts from one iPhone to another, without the need of manually copying them first or the use of email or MMS sharing which could be time consuming.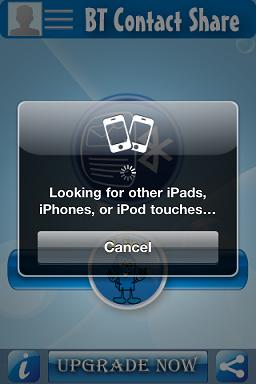 Dubbed as one of the best contact sharing app, BT Contact Share utilizes Bluetooth wireless technology for phone contact transfer seamlessly. As usual, just head over to App Store and search for BT Contact Share follow by downloading and installation. Once done, assuming that you have your Bluetooth turned ON, launch BT Contact Share app will display a message "Looking for other iPads, iPhones, or iPod touches..", searching for nearby iPads, iPhones or iPod touches ready for fast pairing and contact transfer.
While the free BT Contact Share is sufficient for most people, but if you are looking for more advanced and powerful 5 in 1 Bluetooth Tool box that has extra features such as My Chat, Wacky Talkie, Photo Share and etc, then you can consider upgrade it at $4.99.