Flash is one of the famous formats that being widely used for online advertisement with animation and interactive effect. While it may consume higher CPU utilization when accessing those websites that are full of Flash files, but sometimes you may be impressed and would like to get a quick download of those interesting Flash files to be shared to other friends. Now with the simple software utility named as iWisoft Flash SWF downloader, it allows users to download flash files in SWF (ShockWave Flash) format from any websites to be stored or shared to others in simple steps.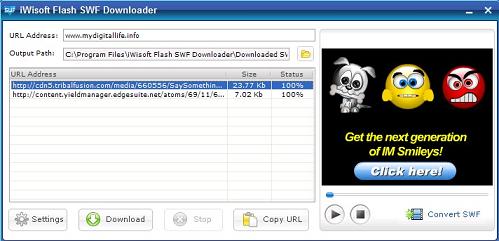 Once download and install the software utility, just launch it and it will bring users to a main menu. The step is really simple. Users just need to key in URL address of the respective website, choose the output path on where the downloaded copies need to be stored into, followed by a 'Waiting Time' setting (10 to 100 seconds). Click on the 'Download' button will download all the SWF files immediately. One thing to note here is the 'Waiting Time' setting will determine how long it takes to detect all those SWF files in the websites and putting it too short may not able to detect and download all SWF.
One drawback, if there are too many Flash files in one websites but you only interested in particular Flash file, users may have to download all of them first then choose to delete those that are not desired. Anyway, it is a quick and simple way to extract Flash SWF files and is compatible with Windows 98/ME/2000/XP/Vista that can be downloaded here at no charge.