Looking for latest update by Google? Google is now officially on Twitter, a social networking and micro-blogging service that allows its users to send and read other users' updates or tweets. The Google on Twitter is been created by "A Googler" from Mountain View, California, USA, and will provide news and updates from Google.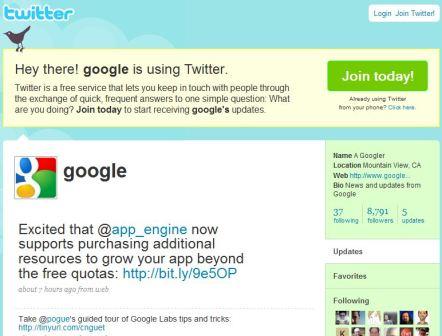 However, the first tweet of @Google is nothing related to update though. The tweet is:
I'm 01100110 01100101 01100101 01101100 01101001 01101110 01100111 00100000 01101100 01110101 01100011 01101011 01111001 00001010
The binary code on the tweet translates into I'm feeling lucky, the famous quotation on the Google Search home page.
In just over 12 hours, the followers of @Google on Twitter grows over 10,000 in number, which equals to roughly 1 new followers every 5 seconds or so.
Follow the @Google on Twitter at https://twitter.com/google.