The world's leading provider of mobile community and social networking services, Jumbuck Entertainment Ltd has debuted its popular mobile chat and flirt service for Apple iPhone – Power Chat, which the company claims first time available as a standalone (off-deck) application, providing the users access to worldwide chat community right from their beloved iPhone.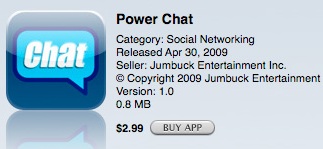 "Power Chat for iPhone represents the first true cross-country, cross-carrier mobile chat and flirt application launched in the Apple App Store," said Adrian Risch, CEO of Jumbuck Entertainment. "Jumbuck has long provided chat services to the world's top carriers and offers iPhone users an instant active community from the moment they log on. We plan on being the biggest, most-popular text chatting service on the iPhone."
Impressive Features of Power Chat iPhone Version:
Public Chat Rooms – Love to chat? Choose from various themed rooms including Flirt, Singles, Friends, Dating, Sports, Da Club, World Chat, as well as regional and age-specific rooms.
Photos – You can check out other chatters' photos in chat rooms, viewing profile information, more photos, and send messages directly to chatter.
Photo Upload – Easily upload photos stored on your Apple iPhone.
Photostream – A gallery of recently added images.
Personal Chats – One-to-one chat offers users a public chat private.
Friends List – Keep track of friends to check when your favorite chatters are online.
Chat Safely – Public chat rooms and photos are moderated by Jumbuck aiming to protect chatters.
Top Chatters – As its name implied, you can see who's top chatters thanks to a list of chatters with most profile views.
The Power Chat for iPhone mobile application is now available through Apple App Store for $2.99.
Watch the demo video of Power Chat iPhone application below.