jv16 PowerTools 2010 is an advanced Windows optimization utility tool from Macecraft Software that quickly applies tune-up, clean Windows registry, delete unneeded files, recover deleted files, and perform a variety of system maintenance and management jobs to enhance PC performance. jv16 PowerTools 2010 comes with numer­ous tools such as File tools, Privacy tools, System tools, History Cleaner, Recovery tools, Software Uninstaller, Startup Manager, Automation tools, File Organizer, Disk Wiper, Duplicate File Finder, and Registry tools that can track down invalid or useless registry entries. In addition, it also comes with built-in malware scanner that can detect many types of common malware and viruses.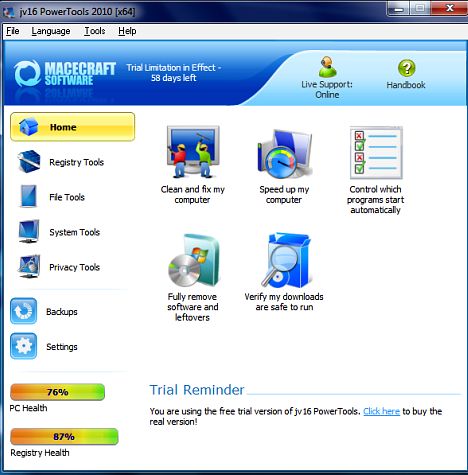 Features of jv16 PowerTools 2010:
Uninstalls software and gets rid of all the left-overs
Optimizes Windows
Improves safety by detecting potentially dangerous files
Recovers deleted files
Safe to use – automatic backup feature and numerous additional safety features.
Automatically clean Windows registry from obsolete and unneeded data.
Automatically fix many kinds of registry errors, such as broken file references.
Easily uninstall leftover traces of software you thought you had already uninstalled ages ago.
Detect and remove unneeded history data and most recently used lists that can contain sensitive information.
Locate and delete unneeded files, including temp files and duplicate files.
jv16 PowerTools 2010 normally costs $29.95 per single license. As part of promotional offer from Macecraft Software, everybody now can download the full version copy of jv16 PowerTools 2010 for free.
To grab and download your free jv16 PowerTools 2010, follow these steps:
Visit the Macecraft promotion page at the following URL:

http://www.macecraft.com/download-license/ea6efa87bbda763cf74d2f2543f11972/

In the page, Click the "Download my License" button and save the license file (License.xbin) to the computer.
Download jv16 PowerTools setup installer: jv16pt_setup_hb.exe
Install jv16 PowerTools 2010 and open License Tool in Help menu from the main menu to convert it from the trial version to the jv16 PowerTools 2010 full version.
jv16 PowerTools 2010 supports Windows 2000, Windows XP, Windows Vista, Windows 7.