With the ever-increasing demands of 3D contents, JVC has launched its highly-anticipated, easy-to-use JVC GS-TD1 3D digital camcorder, which the company claims as the world's first full HD 3D consumer camcorder available in the market, capable of capturing full HD (1920 x 1080 pixels) 3D videos that can be viewed in 3D on any 3D HDTV – also can be burned to Blu-ray disc for 3D playback on compatible Blu-ray players.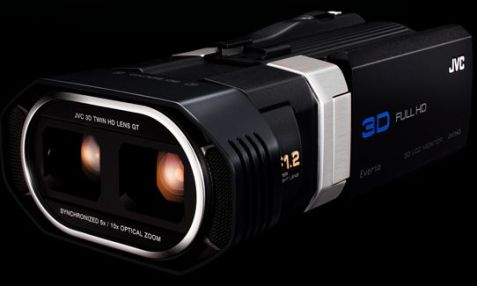 Key features of JVC GS-TD1 full HD 3D camcorder:
JVC 3D Twin HD GT F1.2 lens complemented with dual 3.32 megapixel back-illuminated CMOS image sensors
Large 3.5-inch glass-free 3D LCD touchscreen
5x optical zoom for 3D recording (10x zoom in 2D AVCHD mode)
64GB internal memory plus SDXC memory expansion slot
Optical Axis Automatic Stabilization system
Dynamic rich 3D sound thanks to JVC's BIPHONIC technology
Automatic Parallax Adjustment for easy optimizing the 3D-video comfort zone
Round iris diaphragms to achieve background blurring effects for both video and photo
"With more commercially-produced 3D content coming along this year, sales of 3D TVs are expected to be strong," said Dave Owen, Vice President for Consumer Video at JVC U.S.A. "But what could be better than creating your own home videos in 3D? We think there will be plenty of 3D TV buyers eager to do just that. Furthermore, we think they'll appreciate that our new camcorder offers both Full HD 3D recording and several options for archiving and playing back their 3D footage."
The new user-friendly JVC GS-TD1 full HD 3D camcorder that includes the new Everio MediaBrowser 3D Edition software is now available for around $1,700.