Kaspersky Anti-Virus 2009(KAV 2009) is an anti-virus solution which is known to have super-fast and efficient anti-virus engine that provides protection for all types of malicious programs. In addition, Kaspersky Anti-Virus 2009 includes function for identity theft, anti-spyware, anti-adware, anti-phishing, and anti-rootkit. Kaspersky Anti-Virus 2009 also features latest methods to detect unknown viruses such as behaviour blocking, heuristics, and cloud security.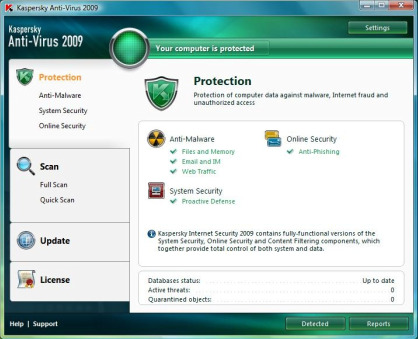 Features of  Kaspersky Anti-Virus 2009:
Protects from viruses, Trojans, worms, spyware, adware
Scans files, email, and internet traffic
Protects Instant Messengers
Analyzes and closes Internet Explorer vulnerabilities
Blocks all types of keyloggers
Email protection.
Real-time Internet traffic scanning.
Stability and critical protection.
Rescue disk.
Self-protection.
On-access and on-demand file scanning.
Security for your data.
Prevents criminals from harvesting your data.
Rollback of malicious changes.
Quick installation and configuration.
Minimal load on your system.
Automatic Database Updates.
Free Technical Support
Kaspersky Anti-Virus 2009 costs $39.95 to purchase a license for 1 year subscription for 1 PC according to listed price. As part of promotion offer, Kaspersky Lab is giving away Kaspersky Anti-Virus 2009 registration key code valid for 9 months (270 days) of subscription for 1 PC.
Here's how to grab the Kaspersky Anti-Virus 2009 free download with 270 days free license:
Visit the following URL:Sorry, link removed as the may be phishing attempt. The official Kaspersky India website is located at http://www.kaspersky.com/in/
Enter name, email address, and other information in the text box, then click "submit" button.
The following message will be displayed.Note: Please keep in mind that Kaspersky with license key may take few days to arrive in your inbox as this is manual process.
Download the Kaspersky Anti-Virus 2009 setup installer: kav8.0.0.523en.exe
Install and activate the Kaspersky Anti-Virus 2009 with the free license key received.
Kaspersky Anti-Virus 2009 support Windows ,2000, Windows XP, and Windows Vista. Do check out more anti-virus promotions.
Update: Kaspersky Anti-Virus 2015 , Kaspersky Internet Security 2015