In addition to Kaspersky Internet Security 2010, Kaspersky has also released its new Kaspersky Anti Virus 2010 which provide a range of new features and options for the users to enjoy a safe and secure Internet experience. The new Kaspersky Anti Virus 2010 comes with several new improved features such as urgent detection system to stop fast emerging threats, restore correct system settings after malware removal, and integrated special game mode to suspend alerts, updates and scans while users play game. In addition, the new version also comes with Kaspersky Toolbar for Internet browsers which to make aware for users about infected or unsafe websites and next generation proactive protection from zero-day attacks and unknown threats. The new version Kaspersky Anti Virus is more effective at detecting malicious programs. It perform a range of tasks 40% faster than their predecessors on the Windows Vista operating system.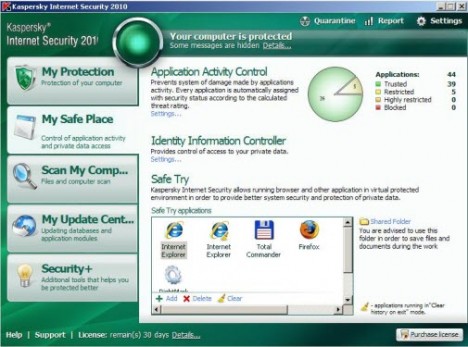 Specification of Kaspersky Antivirus 2010
Protection from hijacking of your PC
Self-protection from malware
Real-time scanning of files, web pages and e-messages
Basic identity theft protection
Color-coding of links to unsafe websites
Disabling of links to malicious websites
Identity theft by key loggers and screen capture malware
Botnets and various illegal methods of taking control of your PC
Blocking of suspicious programs based on their behavior
Regular and emergency updates for always-on protection
Restore correct system settings after malware removal
Burn a Rescue CD to restore your system in case of infection
Remove activity traces in your Internet browser (history, cookies, etc.)
Enter logins and passwords using secure Virtual Keyboard
Improved secure Virtual Keyboard
Special Game Mode to suspend alerts, updates and scans
Scan system and installed applications for vulnerabilities
Tune up your OS and Internet browser settings for better security
Support Microsoft Windows XP/Vista operating system
The new Kaspersky Anti Virus 2010 currently available via Kaspersky Lab website from the starting price of $39.95. Interested users can directly download the Kaspersky Anti Virus free trial setup installer by using links below.
Kaspersky Anti Virus 2010 Free Trial Direct Download Links:
Kaspersky Anti Virus 2010 Version 9.0.0.459 (English) : kav9.0.0.459en.exe
Kaspersky Anti Virus 2010 Version 9.0.0.459 (French) : kav9.0.0.459fr.exe
Kaspersky Anti Virus 2010 Version 9.0.0.459 (German) : kav9.0.0.459DE.exe
Kaspersky Anti Virus 2010 Version 9.0.0.459(Italian) : kav9.0.0.459it.exe
Kaspersky Anti Virus 2010 Version 9.0.0.459 (Spanish) : kav9.0.0.459es.exe
Latest version of KAV 2010 setup installer can be grabbed from http://www.kaspersky.com/kav_latest_versions
Update: Kaspersky Anti-Virus 2013, Kaspersky Anti-Virus 2015 , Kaspersky Internet Security 2015