KDDI has unveiled Hitachi Hi-Vision Cam Wooo phone which claimed as one of the most advanced video capable phone. The Hitachi Hi-Vision phone has been designed to target photo enthusiastic.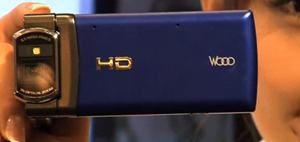 Featured with a 3-inch display with 854 x 480 resolutions, the phone is also equipped with a 5-megapixel camera that supports shooting 720p video with 3X optical zoom, auto-focus function and image stabilization. It boasts a media player that supports music and video playback, has built-in 500MB of internal memory and supports HDMI output. In addition, it supports up to 8GB of microSDHC memory card that can takes up to 2 hours of video recoding.
The Hitachi Hi-Vision Cam Wooo phone is expected to be available in Japan on 24 June and the price is not yet announced.