KDDI and Sharp have teamed up to announce their new waterproof solar-powered mobile phone. The eco-friendly phone is featured with a waterproof solar panels which are developed by Sharp. The phone comes with a battery that can be charged up to 80 percent using the solar energy.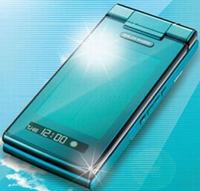 The panel would be able to provide 2 hours of stand by time and one minute of talk for every ten minutes of solar charge. From the image, the phone seems to be a flip phone and equipped with an external display that showing the time.
The waterproof handset is expected to be available in June for Japan market.