There are plenty of authentication methods such as fingerprint, Iris, Palm scan recognition and etc being deployed to safeguard your handheld devices and you may wonder what will be next available technology? Now the arm swinging method being disclosed by a team of Japanese researchers at Yoshinori Hatori Laboratory, Tokyo Institute of Technology in collaboration with KDDI R&D may be new to you. According to them, a new system has been developed that is claimed to be able to analyze signals created by arm swinging movement, and eventually allowing locking and unlocking of your handheld device more accurately and effectively.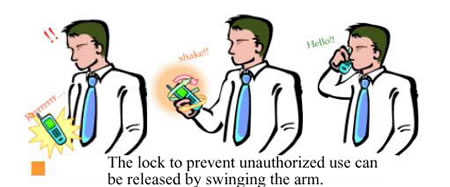 It is interesting to figure out that the swinging pattern is unique to individual that is difficult to be duplicated by someone else as a personal authentication method replacing conventional way that we used to have. Besides the arm swinging pattern, other factors such as the arm's length, handheld holding pattern, muscle structure and many physical characteristic have made it one of the simplest but yet safer mechanisms to lock or unlock the handheld device as compared to other biometric methods.
No firm date and plan on when will it be available and implemented in actual consumer devices yet, but the Japanese researchers are planning to do further field testing to ensure its accuracy and reliability before releasing it as a full prove solution to end users.