The tabbed browsing feature in Firefox browser offers users the ability to view web pages in a single browser window conveniently. Users can jump from one tab to another easily. However, opening too many tabssimulatenoeusly may prompt restoring problems especially when the system crashes and the browser attemps to reopen all the tabs in their original status before the crash. To reload all tabs at the same time might consume a lot of system resources and take a substantially long time. Instead of reloading all tabs at the same time, BarTab, a free Firefox add-on, allows you to put all the tabs on your bar tab and only load them one by one when you click on them.

With BarTap, users can set the BarTap preference, e.g. "Load them" (by default) or "Put them on my tab".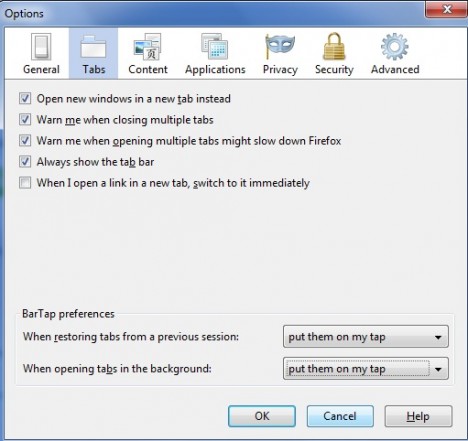 Once users set the preference to "Put them on my tab", whenever the Firefox browser restarts after a system crash, users will notice tabs at the browsers being grayed out. Users can select and specify which tab to fully restore by clicking on it. Once users click on the tab, the content will thence start loading.


With a handy add-on like BarTap, users can selectively reload their web pages before the system crashes without using up a lot of system resources.