Having worries and wondering what your kids, brothers or colleagues are browsing in the internet with your computer when you are not around? Find out all search queries these people make with the most popular search engines such as Google, Yahoo and MSN and with popular social networking sites such as Facebook, MySpace, Twitter, etc via this free program, MyLastSearch.

Download MyLastSearch via the link here; this program does not require any installations to be done. What users need to do is copy the executable file, MyLastSearch.exe, to a designated folder and execute the program. This program will scan through the cache and history files of the web browsers, (e.g. IE, Firefox and Chrome) to extract all search queries and display them in a table format. The table is labeled with the following columns: Search Text, Search Engine, Search Type (General, image, etc), Search Time, Web Browser, and the search URL. Users can read and even copy the search queries to the clipboard to save them accordingly.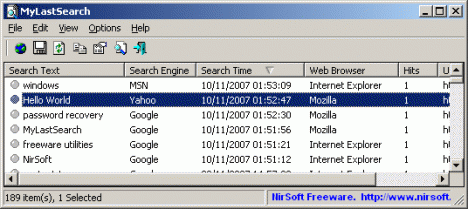 MyLastSearch is a simple tool which can extract the information from the browsers' cache and history files. It is useful for users to quickly trace the search records from the web browser in the computer.