Posted:
November 16, 2010
/
Under:
Operating Systems
/
By:
My Digital Life Editorial Team
Kingsoft Antivirus is a anti-virus security solution developed by Chinese developer based in Beijing, China. Kingsoft Antivirus is free and provides effective and efficient protection at no cost to users. It features cloud security technology to monitor, scan and protect the systems together with the comprehensive defender and anti-virus tools to prevent and protect computer from unwanted virus, worms, and Trojans.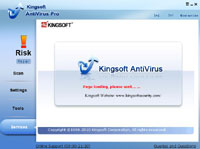 Features of Kingsoft Antivurs includes:
Provides needed protection against unwanted threats, such as worms, Trojans, spyware, malware.
Real-time prevention.
Includes several convenient tools to enhance your computer protection: USB Device Protection, IM Protection, Disk Cleaner, History Cleaner and LSP Repair.
Low memory consumption of only 16.79MB.
Monitor files downloaded by tools and block known or unknown hacker attacks on the Internet.
Monitor and scan transferred files from web messengers and IM.
Quickly cleans infected data to ensure your computer be always secure.
Includes automatic scan and demanded scan.
Completely compatible with Windows operating systems, up to Windows 7.
User-friendly, simple and convenient to use.
Free of charge.
Download Kingsoft Antivirus (KAV) 2010 version 9: KAV100720_ENU_DOWN_331020_10.rar or KAV100720_ENU_DOWN_331020_10.EXE
Future updated versions can be found on Kingsoft Antivirus homepage at kingsoftresearch.com.