Occasionally you may want to monitor certain running processes to determine on how resource-hungry it is for a period of time. Instead of trying to monitor them manually, here is a tiny but yet useful utility that you can try. Named as Kiwi Application Monitor, it is able to accomplish the monitoring tasks with additional conditional rules to let users terminate it or perform subsequent action automatically.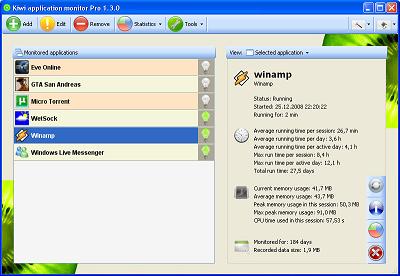 Kiwi Application Monitor has been designed with pretty neat interface and without complicated setup required, users can start using it straight away once installed and launched. For the start, just browse for the respective processes that need to be monitored. Then, users are allowed to configure the rules to alert and eventually activate follow-on actions depending on own preference. For instance, there is option to trigger the alert message when certain processes are started/ended, or when its memory load/running time exceeds certain thresholds (in MB or minutes respectively), followed by an action to either close the running processes, execute certain new application or even turn off the computer.
While its free version is sufficient for most users, but in case you are looking for more advanced feature sets like the statistical data such as computer memory load time, windows run time, mouse cursor movement, keys pressed as well as users' activity with ability to configure using advanced rules for monitoring and automation, the Pro version could be your alternative choice. You may want to get a feel on how the free version utility is able to help you and it is available for download here suitable for home and office use.