The leading innovator for imaging products, Kodak has expanded its popular video camera portfolio with new pocket-sized Kodak PlayTouch mini camcorder, which features a 3.0-inch capacitive touchscreen display, LCD glare shield, Share Button, integrated USB arm, external microphone jack and HDMI output, capable of capturing 1080p full HD video and 5 megapixel HD still shots, compatible with SD/SDHC memory card (up to 32 GB).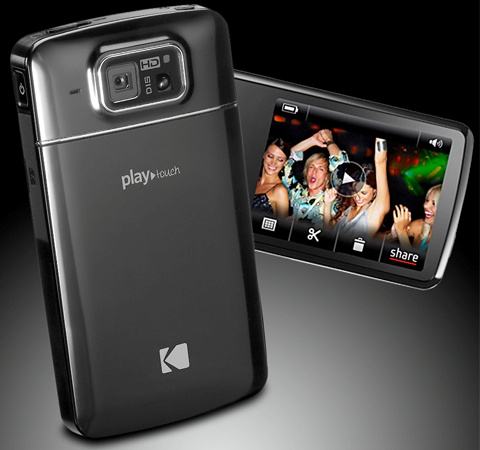 "Kodak has firmly established itself as a leader in the digital pocket video camera space since introducing its line in 2008, and continues to be one of the most highly rated and recommended in this category," commented Phil Scott, Vice President of Marketing for Digital Capture and Devices at Kodak. "We're committed to providing our consumers with innovative and intuitive products that satisfy their needs. Whether it's a night out on the town with friends or your child's school play, the KODAK PLAYTOUCH Video Camera makes capturing and sharing your favorite moments simple and fun."
The new stylish, sleek Kodak PlayTouch which measures 2.3 × 4.3 × 0.6 inches and weights just 100 grams will be available in 5 variants of colour – Black, Chrome, Magenta, Orange and Blue, expected to be available later this fall for around $230.