Technology helps in terms of better lifestyle, similar when it goes to sports. Can you think of any latest technology that can help while playing golf? Yes, that is GPS (Global Positioning System) technology that has become so common especially in mobile segment. By looking into this opportunity, KTF (Korea Telecom Freetel) has just unveiled a series of new GPS enabled mobile phones that can help golfers aiming their tee-shots better.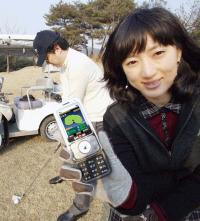 The mobile GPS devices are preloaded with 250 golf courses in Korea. Besides, it is also equipped with a virtual golf caddy program that can replace those offered by golf courses. With the application software and real time location data received from satellites, the golfer will be able to estimate the distance and angle with better accuracy while playing on the green field. The system is claimed to be able to provide accuracy of 5-meter in open space, which is quite dependent on the receiver module itself.
No pricing and availability yet, but since it is targeted for middle or upper class, the retail price could be set higher as compared to normal GPS phone. We should expect to see more similar kinds of GPS gadget mobile phones and services being released in other countries in short future.