The global communications leader, Motorola has official announced its two new mobile phones, ROKR E8 and Z10. According to the company, the Moto Z10 slider phone is a mobile film studio packed with next-generation 3G technology, and video editing capability in an effort to appeal to young folks who like to share videos with their friends through sharing web sites including YouTube, Google, Yahoo and Shozu, aiming to edit and share multimedia directly from the pocket-sized mobile device.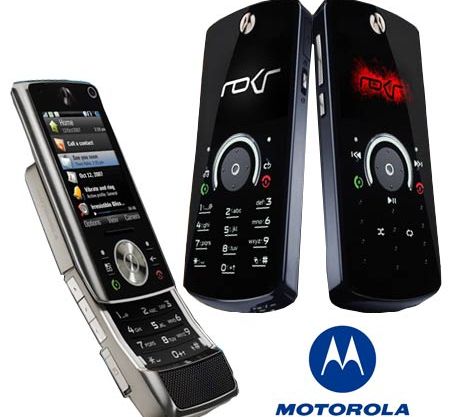 Besides, the music-focused ROKR E8 candybar phone will offer a backlit touch-sensitive keypad, along with a cutting-edge, easy-to-use controls that allow a smooth transition from phone to MP3 player to imaging device.
"At CES 2008, Motorola will demonstrate 'must-have' and intuitive mobile devices that allow consumers to explore and enrich every facet of their lives," said Stu Reed, president of Motorola Mobile Devices.
Key Features Of New Motorola Z10:
HSDPA, Symbian UIQ and 3.5G technology
3.2 megapixel camera, Superfast burst mode delivers 3 shots per second
2.2″ QVGA display for 30 frames per second video playback
30 frames per second video capture
Storyboard editing allows for combination of multiple videos, addition of soundtrack, commentary and visual effects
Future-proofed for up to 32GB microSD card
Instant media download and streaming at HSDPA 3.6Mbps
Key Features Of New Motorola ROKR E8:
ModeShift technology transforms the device from phone to music player to imaging device with the touch of a button
FastScroll navigation wheel allows for scrolling through songs, contact and image library with the slide of a thumb
Innovative haptics technology provides tactile response when a virtual key is pressed
Microsoft music ecosystem support
2.0 megapixel camera with 8x zoom, multi-shot feature, video capture and playback
Airplane mode to play uninterrupted music in the air, even without a SIM card
Talking phone offers a voice readout of text messages while dialing number or when receiving a call
Crystal Talk technology and full HTML browser
The latest Motorola ROKR E8 is expected to be available in Q1 2008 but no words on Z10's availability yet.