The well-known company specializing in optics and imaging, Nikon has announced its latest 10.2 megapixel D60 digital SLR camera – Nikon's smallest D-SLR camera ever, aiming to provide consumers with stunning picture quality and versatility in an easy-to-use, compact DSLR camera design.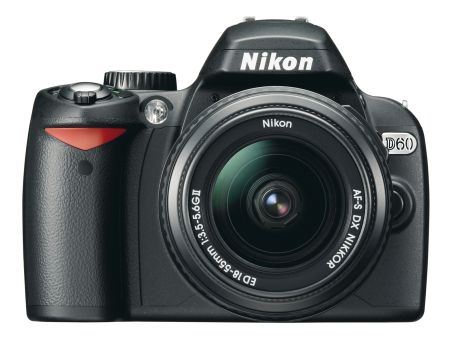 Major Features Of New Nikon D60:
10.2-megapixel DX-format CCD imaging sensor and exclusive EXPEED image processing concept provide added cropping freedom and the ability to make larger prints.
2.5-Inch, 230,000-dot color LCD monitor with 170-degree wide-angle viewing
Fast Startup and Split-Second Shutter Response, aiming to capture moments that other cameras miss
Fast, accurate 3-Area Autofocus
Built-in speedlight with i-TTL Automatic Flash Control
Shoot continuously at up to 3 frames per second
Active Dust Reduction System with Airflow Control
Nikon 3D Color Matrix Metering II
Supports up to 500 images per battery charge
"The Nikon D60 makes stepping up to digital SLR photography easy for anyone, but is also a wonderful choice for photo enthusiasts looking for remarkable performance in a compact package," said Edward Fasano, general manager for marketing, SLR System Products at Nikon, Inc. "This model, like the wildly popular Nikon D40, greatly simplifies use and builds confidence in the user. With a host of innovative features, such as a visually intuitive LCD information display, Nikon's highly regarded EXPEED image processing concept, new dual dust reduction countermeasures, in-camera editing tools and exciting creative options, the D60 enhances the picture-taking experience for picture-takers of all skill levels."
Besides, the company also introduced a trio of new lenses including 24mm f/3.5 ED perspective control lens, Micro 60mm f/2.8 G, and the DX Nikkor 16-85mmG ED VR zoom.
"The new AF-S DX Nikkor 16-85mm f/3.5-5.6G ED VR lens fulfills a need among Nikon digital SLR customers for a compact wide ratio zoom lens that offers a dramatic wide angle perspective, up to a practical and useful telephoto view, as well as advanced optical features," said Edward Fasano, general manager for marketing, SLR Systems Products at Nikon, Inc. "Whether on vacation or on assignment, the new 16-85mm lens' versatility and remarkable image integrity are sure to make it one of Nikon's most popular advanced performance Zoom-NIKKOR lenses."