One of the market and technology leader in digital camcorders, Panasonic has introduced two new full-HD camcorders – HDC-SD100 (records to SD card) and HDC-HS100 (records to SD card and built-in 60GB hard drive), which the company claims as the world's first AVCHD camcorders with 3MOS system, featuring Panasonic's new Intelligent Auto (iA) mode that automatically activate several technologies, aiming to enhance your video shooting experience.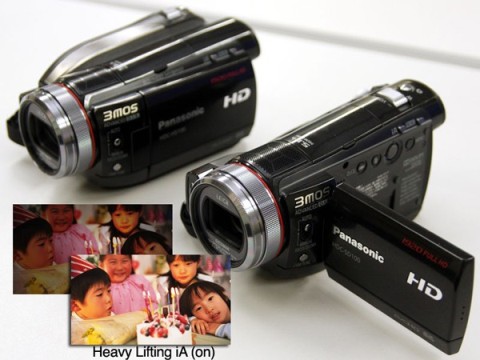 "The camcorder market is moving swiftly to High Definition and superior image quality is now a must-have feature. Moreover, many consumers are also demanding higher-level features, and the ability to be more creative," said Zoe Susice, Group Manager, Imaging, Panasonic Consumer Electronics Company. "For these users, we introduce two new full-HD 3MOS models — the HDC-SD100 and HDC-HS100 — with manual functions that give users the power to create dramatic, artistic images. At the same time, we also have our Intelligent Auto mode, which activates several technologies automatically, so the user doesn't need to make any adjustments, and shooting video is an easy and enjoyable experience."
Functions Of Panasonic's New Intelligent Auto (iA) Mode:
Advanced O.I.S. (Optical Image Stabilization) detects hand-shake and then triggers the lens to shift to correctly align the optical axis, helping to ensure videos are sharp and reduce blur. This happens at a rate of 4,000 times per second.
Face Detection automatically adjusts the exposure, contrast, skin complexion effect, and focus so that faces are always clear. Face Detection can detect up to 15 faces in a frame.
Intelligent Contrast Control continually measures the ambient light intensity and adjusts the contrast as it changes, helping to prevent a washed-out look in bright parts of an image and black-outs in parts with shadows.
Intelligent Scene Selection which determines the shooting environment and automatically selects the appropriate scene setting for optimal results.
In addition, these latest AVCHD camcorders also includes Panasonic HD Advanced Pure Color Engine, Panasonic's improved optical image stabilization, new Leica Dicomar lens with 12x optical zoom, 5.1-surround mic and HDMI-out.
According to the company, "The world's first AVCHD camcorders with a 3MOS system are newly developed by Panasonic and based on the company's 3CCD technology, an already-established and renowned system that provides excellent color reproduction. With their expanded light-receiving areas, the MOS sensors also significantly improve image quality, even in low lighting. The three MOS sensors process the red, green, and blue components of incoming light separately, so color reproduction is superb. These sensors also have about double the light-receiving area of CCD sensors, so image quality when shooting in low light is much higher. Compared with a conventional 1MOS, Panasonic's new 3MOS system captures more vibrant, true-to-life colors, greater detail and richer gradation. This high-precision imaging element is first in the world to shoot in lighting as low as 2 lux and helps the SD100 and HS100 capture exceptionally clear, bright images."
The latest Panasonic HDC-SD100 and HDC-HS100 full-HD camcorders that compatible with Panasonic's VIERA Link are expected to be available in coming September for about $1,300 and $1,100, respectively.