Panasonic Consumer Electronics Company has announced a latest addition to its highly-regarded and popular LX-series of LUMIX family – Panasonic LUMIX DMC-LX3. It's the 10.1-megapixel compact digital camera which incorporates F2.0 extraordinary bright 24mm ultra-wide-angle LEICA DC VARIO-SUMMICRON lens and ultra-sensitive 1/1.63-inch CCD, aiming to enhance your photography experience.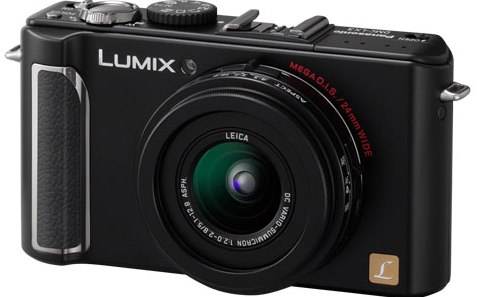 The company claims that the newly developed ultra-sensitive 1/1.63-inch CCD of LUMIX LX3 is 40% more sensitive and saturation is increased by 35% while compared to other Panasonic 10.1-megapixel cameras. Besides, it's F2.0 24mm LEICA DC VARIO-SUMMICRON lens feature large Aperture F2.0, which is about twice as bright as a F2.8 lens and can shoot at higher shutter speeds for capturing clear, sharp and blur-free images in dimly lit environments.
"With the strong response towards the DMC-LX2, Panasonic has taken its technology a step further by upgrading several key components that we think will make the LX3 another win," said David Briganti, National Marketing Manager, Imaging, Panasonic Consumer Electronics Company. "With the enhanced CCD and extensive manual and automatic functions, the DMC-LX3 is ideal for photographers looking for a full-featured compact digital camera with some DSLR-like characteristics and a wide-range of optional accessories."
Features Of Panasonic LUMIX LX3:
Panasonic LSI Venus Engine IV processor which provides more advanced signal processing technology, making it possible to capture clean, beautiful, higher-quality images with reduced noise even when shooting at high sensitivity settings
Shooting 2.5 shots per second at full resolution and 6 shots per second in High-Speed Burst mode
Recording at up to ISO 3200 at full resolution and even up to ISO 6400 when using high sensitivity mode
Recording high definition (HD) video in 1280 x 720p at 24fps
Panasonic's Intelligent Auto (iA) mode, including the new feature – AF (auto focus) Tracking for capturing sharp, well-focused photos
Easy-to-use joystick operation
According to Panasonic, "The LX3 also features a Film mode with six color types and three types of monochrome selections. Much like selecting from different film types, this function gives the user the flexibility and creative freedom to take more expressive digital photos. Also, when using the Multi-film mode, the LX3 produces a maximum of three images from a RAW file for the user to compare the different textures. Another new feature is the multiple-exposure feature, which lets the user create artistic photos by overlaying up to three consecutive images; while still viewing the last image on the 3.0-inch LCD screen."
The new Panasonic LUMIX DMC-LX3 digital camera that available in silver and black color will hit the market in coming August 2008 for about $500.