Panasonic has announced the launch of its latest 2009 camcorders, including 2 HDD models – SDR-H80 (60GB) and SDR-H90 (80GB), and 1 SD Card model – SDR-S26, which incorporate the world's first and most powerful 70x optical ultra-zoom lens, featuring an advanced Optical Image Stabilization (O.I.S.) system and Panasonic's proprietary (iA) Intelligent Auto technologies.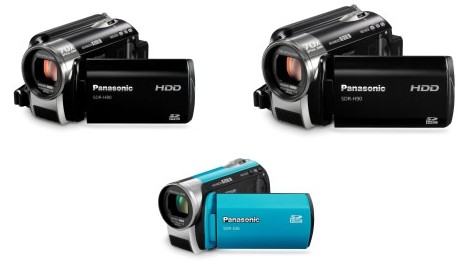 "Before today, traditional camcorder lenses could zoom up to 50x, but with the extra 20x our new camcorders provide, Panasonic is the first to offer such a powerful solution," said Dennis Eppel, Vice President, Network Business Group, Panasonic Consumer Electronics Company. "Panasonic understands that consumers sometimes need that extra zoom to truly capture dynamic colors, expressions and motions when the subject is far away, such as during an on-stage school play or sporting event."
Other Features Of Panasonic SDR-H80, SDR-H90 and SDR-S26 camcorders:
Easy YouTube Upload – This convenient function makes it fast and easy to upload video clips to YouTube.com for easy sharing. Simply install VideoCam Suite software that comes with the model and connect to a PC using the USB interface.
Quick Start Mode – Takes just 0.8 seconds for the camcorders to start up in quick start mode, ensuring that sudden shooting opportunities are not missed.
Easy Copy to DVD – Most people use their camcorders for three main purposes: to shoot, play, and archive video recordings. They want each of these functions to be as easy as possible. This feature lets the user save data onto DVDs without all the fuss. By connecting the camcorder to the VW-BN1 DVD Burner (optional) using a USB cable, video recordings can easily be copied to a 12-cm DVD (DVD-RAM/-RW/-R/-R DL). The disc can then be played back on DVD players.
The latest Panasonic SDR-H80, SDR-H90 and SDR-S26 camcorders will hit the market in coming April 2009 for about $450, $500 and $330, respectively.