Nutec WristFone is a small and innovative gadget that can be used as a wrist watch mobile. It is the latest device from Neutrano. The wrist watch phone has been integrated with various features which able to make it works similar as regular phone.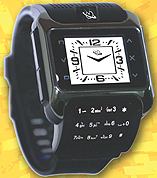 Featured with a small touch screen display, Nutec WristFone is also equipped with a 1.3-megapixelcamera. It comes with a FM radio and music player that enables users to enjoy their favorite songs while on the go, PDA, built-in hand writing recognition and integrated video recorder.
Moreover, it is Bluetooth enabled, supports GSM and microSD card, offers a talk time of up to 4 hours and standby time of up to 3 days.
The Nutec WristFone will be available in two versions namely stainless steel and leather. It is expected to start shipping from June 15 and the price is not yet specify.