Although there are already many free web browsers being introduced to the market such as Firefox, Opera and Safari, but you still can't stay without Internet Explorer as some of the sites can only be viewed or run with Internet Explorer. If you have decided to use browser like Firefox/Opera/Safari as your main browser, but when come to visiting some of Microsoft related website, or executing Microsoft applications like SQL Reporting Services and SharePoint, you need to do extra step to launch Internet Explorer browser and then switch between them from time to time. Good news to Firefox lovers now with the introduction of this Firefox add-on, named as IE tab which allows you to launch Internet Explorer tab within Firefox browser or in another word, it lets you run Internet Explorer and Firefox concurrently within Firefox browser for more efficient work.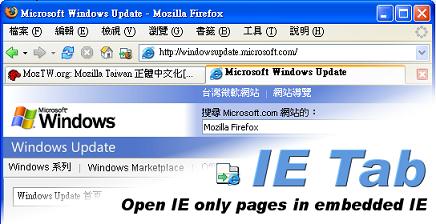 IE tab is an extension that embeds Internet Explorer in Firefox tab. If you would like to open the link by using Internet Explorer browser, just right click on the link, choose "Open Link in Internet Explorer Tab" from the context menu, a new Internet Explorer tab will be launched to open the link. On top of this, you can also switch any opened websites currently viewed with Firefox to be viewed with Internet Explorer and vice versa easily. For instance, right click on the tab which is currently viewed with Internet Explorer, choose "Switch rendering engine", it will switch the page to be viewed with Firefox. If you have websites that for sure you want them to be viewed with Internet Explorer, IE tab has provided the option to allow you to pre-configure these URLs so that when visiting to these links, they will be viewed by using Internet Explorer automatically.
IE tab is definitely a great and very helpful tool which allows you to visit some of sites that can only be viewed by Internet Explorer without having you to open and switch between Firefox and Internet Explorer browser. It works well for Firefox 3.0 – 3.2a1pre.