Lavasoft Ad-Aware Plus is an Internet security solution which combines anti-virus, anti-spyware and anti-rootkit protection. Ad-Aware Plus is an edition of Ad-Aware family of products that second only to Ad-Aware Pro. Ad-Aware Plus lacks several advanced features such as Ad-Watch Live! Expert mode, Rootkit Removal System – Level 3 Expert mode, network drive scanning, Do Not Disturb mode, Lavasoft toolbar (which may be a giving) and command line support, which Lavasoft Ad-Aware Pro has, otherwise it's a full featured security product.

Features of Ad-Aware Plus:
Complete Malware Protection, Including Anti-Virus and Anti-Spyware
Ad-Watch Live! Advanced Real-time Protection
Genotype Detection Technology
Behavior-Based Heuristics Detection
Advanced Level Rootkit Removal System
The Neutralizer Malware Removal Tool
Minimal Strain on System Resources
Download Guard for Internet Explorer
E-mail Scanner
Customizable Profile Scans
Pin-Point Scanning
Automatic Pulse Updates & Free Technical Support
Full Integration with Windows Security Center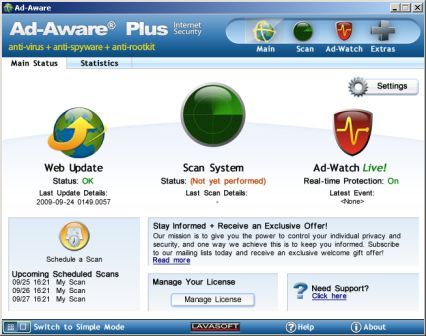 Ad-Aware Plus normally costs $26.95 for 1 year subscription license. For a day on Friday, March 26, 2010, everybody can get free Ad-Aware Plus serial number with 1 year validity license, thanks to sponsorship by v3.co.uk. The promotion will start from midday GMT, Friday 26th of March 2010 through to midday GMT, Saturday 27th of March 2010.
During the 24-hour period, everybody can download the full current version of Lavasoft's Ad-Aware Plus v8.2, along with a years worth of updates. To download, just head to www.v3.co.uk/downloads/ during the promotional period. Registration with v3.co.uk may be required.