Swedish security firm Lavasoft which well known in anti-spyware software Ad-Aware, recently has unveiled Avira based antivirus software called as Lavasoft Anti-Virus Helix. Lavasoft Anti-Virus Helix able to defend against a range of cyber threats that can invade PC through emails, downloads, instant messages and etc. It also able to protect the users irreplaceable files, photos, music and documents as well as improve PC health.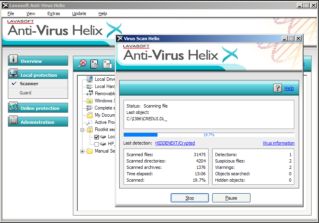 The key features of Lavasoft Anti-Virus Helix as below:
Advanced protection against viruses, worms, Trojans, adware, and rootkits.
Real-time detection of cyber threats like bots, phishing attempts, and dangerous drive-by downloads.
Superior detection rates with advanced heuristic technology.
Detects, quarantines, and eliminates a multitude of cyber threats.
Advanced rootkit removal technology.
Email scanning to prevent e-mail virus attacks.
Safe downloading and surfing with WebGuard.
Safely isolate infected and suspicious file.
Fast, efficient, and resource saving scanning technology.
Easy to download, install and use.
Currently, Anti-Virus Helix offers a 30-day trial period that provides full updates for the product with one year license for $23.95 and free support.