On of the effective ways to polish up your English language skills is via constant exposure to the language in a meaningful context. In this respect, most people prefer watching interesting videos to reading books because movies have sounds, images and animation. If you are the visual kind of learner who don't like traditional classroom settings or learning from a book, Yappr, an online community should be the right place for you to visit. While having fun watching video clips, learners can acquire languages at the same time.

Yappr.com is the place for non-native English speakers who want to master the international language in a fun and interesting way. Users can improve their English language skills via various tools available in this site to help them be more fluent and confident in using English. Yapppr offers users videos in English that are sorted into different categories such as recent, highest-rated, sports, most popular, movie trailers, business, celebrities, and others. Each video will be supported with English subtitles. Users can listen to the words/phrases as many times as they like by rewinding or replaying the video clip. Non-native English users can even get the translation of the subtitles in their own languages. There are 14 languages available in Yappr including English, French, Spanish, Japanese, Korean, Mandarin, Portuguese, Hungarian, German, Italian, Hindi, Russian, Thai and others.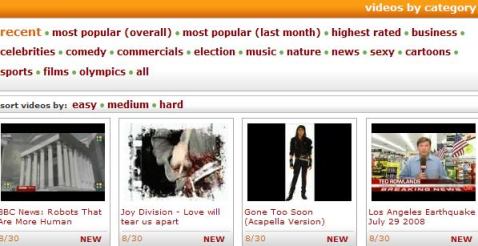 Users who have registered and joined the community can also use the chat room facility to chat and participate in discussions to improve their language. Of course there are other standard features available in online community sites such as friends, individual profiles, etc. The developers will also add in games and other learning features to assist users to practise their English in due course.
This is not only a fun and creative platform for learners of English but also a useful English resource for language teachers and facilitators looking for authentic and interesting teaching materials to be used in class.