Lenovo has announced the launch of the industry's first hybrid PC – Lenovo IdeaPad U1 hybrid notebook, which combines two PCs in one device by utilizing the groundbreaking innovative design that lets users switch between full function notebook mode and 3G multitouch slate tablet for mobile Internet – each with its own processor (Intel Core 2 Duo SU4100 and ARM processor) and operating system (Windows 7 and Lenovo's customized Skylight OS).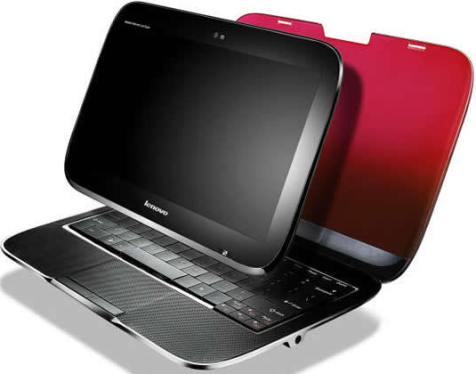 Users can easily remove the 1.6 pound 11.6-inch HD LED screen to instantly switch from laptop mode into a multitouch slate tablet, thanks to its unique detach-and-converge form factor. In addition, the laptop and tablet modes each support over 5 hours of 3G Web browsing and 60 hours of 3G standby.
"The IdeaPad U1 hybrid notebook is a game-changing technology in the PC industry that lets the user switch at will their PC experience to match their dynamic lifestyle," said Liu Jun, senior vice president for Idea Product Group at Lenovo. "By fusing the functionality of a notebook with the slate tablet's rich multitouch entertainment and mobile Internet experience, U1 provides consumers the freedom to choose the device they prefer for any activity."
According to Lenovo, the IdeaPad U1 Hybrid Notebook comes equipped with webcam, 2 stereo speakers, microphone with echo cancellation, and a customized "Me" centric tablet interface for comfortable landscape and portrait viewing, allowing users to switch between a 6-section display and a 4-section display.
The new Lenovo IdeaPad U1 hybrid notebook that features Lenovo's Hybrid Switch technology to enable seamless toggling between the two processors is expected to be available for $999 starting June 1, 2010.