AT&T and LG Electronics have announced the upcoming availability of the latest AT&T Mobile TV-capable phone – LG ARENA, which offers users a quick and easy access to a world of entertainment and multimedia with just a touch on a screen, based on LG's innovative 3D S-Class UI.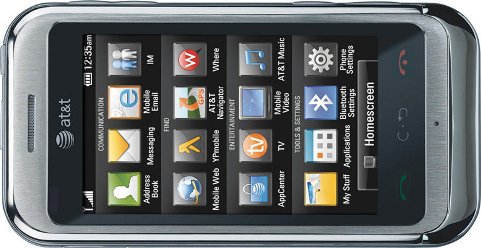 "This device gives our customers easy access to everything, from social networking sites to their favorite TV show, with just a tap of a finger," commented Michael Woodward, vice president for Mobile Phone Portfolio at AT&T Mobility and Consumer Markets. "LG ARENA connects people to their world while backed by the nation's fastest 3G network."
Key Features of LG ARENA (AT&T):
3.0-inch WVGA touchscreen display complemented with LG's 3D S-Class User Interface
5.0 megapixel autofocus camera with geo-tagging capability
Built-in A-GPS, Wi-Fi and microSDHC memory card slot
Blazing-fast web browsing experience thanks to AT&T's 7.2 HSPA 3G technology
AT&T Mobile TV lets subscribers tune-in to watch full-length episodes of their favorite soaps, sitcoms, sports as well as news programs from the networks they love ($9.99 a month)
AT&T Mobile Browser combines full HTML browsing with unique customization features
AT&T Navigator provides turn-by-turn voice and onscreen directions, automatic rerouting, real-time traffic monitoring and more ($9.99 per month)
AT&T Social Net offers an easy access to all your social networking sites such as Facebook, Twitter and MySpace
"LG ARENA seamlessly blends advanced mobile technology, cutting edge design, and smarter features," said Ehtisham Rabbani, vice president for Marketing and Innovation at LG Mobile Phones. "With its exceptional 5MP camera, advanced GPS, entertainment features, and easy access to web and social networking sites, LG ARENA is a hard-working and sophisticated choice for both consumers and business users."
LG ARENA which measures just over a half-inch thin with brushed and polished metal accents is scheduled to be available online at www.wireless.att.com starting February 26 and hit AT&T stores beginning March 7, 2010 for $199.99, after $50 mail-in rebate and 2-year service contract.