LG Decoy is the first mobile phone with a built-in, pop-out Bluetooth heads which is a good choice for those who tend to misplace their mobile accessories.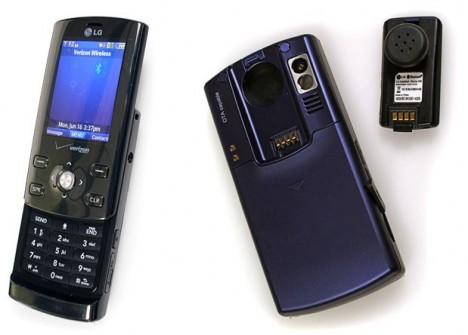 This 4-ounce phone measures 4.01 by 1.97 by 0.67 inches (HWD) and with a bright, sharp-looking, 2.2-inch, 320-by-240 display. There is hidden surprise when turning the Decoy over, i.e. Bluetooth headset. Headset can be released by pressing a button.
It is simple to pair the headset which is needed for the first time. The headset recharges when it's plugged into the phone and activates when it's removed. The box comes with a separate headset charging station.
The phone uses the excellent voice-dialing system. Ringtones are loud and the vibrate function is relatively strong. However, battery life isn't very good with talk time average at about 4 hours.
The Decoy has a range of other features. Its 65MB of internal memory and microSD memory card allows the user to store games, music, or video. To upload and download files, you can use Bluetooth, a memory card reader, or a standard micro USB cable with a Windows PC. However, the phone's mass storage driver doesn't work with Mac.
LG Decoy features 2-megapixel camera which takes sharp photo. The movie mode takes decent 320-by-240-pixel videos at 15 frames per second.