Usually the design and the color will be the important criteria to consider when you purchase a mobile phone. Targeting the ladies market, LG has recently announced its folding form factor mobile phone, LG KG376. The exterior of the phone has been designed with round flowers and twisting stems of red color. Besides, the exterior combines a color combination of beige, gold and red.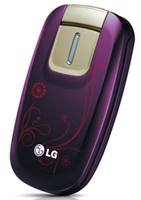 Another attractive features of the phone is it has an indicator light which blinks when an incoming call or text arrives. Along with a internal display of 1.5-inch with 128 x 128 resolutions, the LG KG376 is also equipped with a FM radio for the users to enjoy their favorite music while on the go.
In addition, it comes with 1MB of internal memory and, comes with a 750mAh battery that offers up to 250 hours of standby time and 3 hours of talk time.
The availability and the price of LG KG376 with measurement of 85.9mm x 45mm x19.8mm and weighs 73g are not yet announced.