The Korean electronic giant, LG has added its first known QWERTY smartphone with Windows Mobile 6.1 operating system which known as GW550. The phone has been designed to target the business users. The smartphone has been improved with QWERTY keyboard for easy text messaging and email.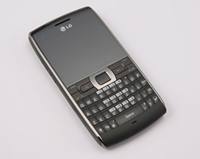 Featured with a 2.4 QVGA display, LG GW550 is also equipped with 3-megapixel camera for video calls. It boasts with high speed 7.2 Mbps HSPDA connectivity, has built-in with stereo speakers and comes with a 1,300mAh battery. Besides, it supports GSM, EDGE and 3G.
The availability and the price for LG GW550 with dimension of 116.3 x 61.5 x 12 mm are not yet announced.