If you are those who look for a budget phone which features with touchscreen display, then here may be another option for you. T-Mobile has announced the availability of LG Sentio at its retail stores. The LG Sentio is a slim and stylish phone with a 3-inch touchscreen display  and on-screen QWERTY keyboard. It is also equipped with 3-megapixel camera for capture still images and video. Furthermore, the phone has been enhanced with a built-in media player for users to enjoy their favorite songs and videos.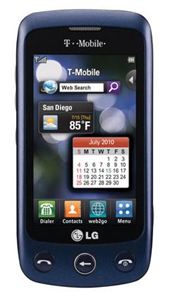 Key features of the LG Sentio phone includes:
Display – A 3-inch touchscreen display with auto rotating features.
Communication – Supports 3G connectivity and Bluetooth enabled.
Camera – A 3-megapixel camera.
Multimedia – Supports music player and video playback.
Messaging – Supports text, picture, social networking and email.
Memory slot – Supports memory card slot (microSD).
GPS – Built-in.
Battery – Comes with a 900mA battery that provides up to 6 hours of talk time and up to 16 days of standby time.
The LG Sentio with dimensions of 4.2 x 2.1 x 0.5-inch and weighs 3.3 ounces is available at T-Mobile for the price of $70 with two-year service contract after $50 mail-in-rebate.