AT&T and LG have teamed up to announce a new LG Thril 4G smartphone which is re-branding version of the LG Optimus 3D smartphone. The LG Thrill 4G is claimed to be the first smartphone in the U.S. to feature a "glasses-free" 4.3-inch stereoscopic 3D display plus 4G speed capability on the nation's fastest mobile broadband network. The power of the 3D smartphone is booted up by 1GHz dual-core processor and runs on Android 2.2 Froyo operating systems.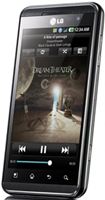 Main features of the LG Thrill 4G smartphone includes:
4.3-inch stereoscopic 3D display with 480 x 800 resolutions.
Dual 5-megapixel stereoscopic 3D cameras.
1GHz dual-core TI OMAP4 processor.
Runs on Android 2.2 Froyo operating systems.
Supports 720p 3D video and 1080p HD 2D video playback.
Able to capture crystal-clear 3D images and share 3D content.
Glasses-free 3D view, shoot and share technology.
Preloaded with 16 GB of memory (8 GB onboard plus an 8 GB MicroSD card).
Supports MicroSD memory card slot.
Built-in HDMI-out port and supports DLNA.
Comes with 1500 mAh battery.
The LG Thrill 4G smartphone with dimensions of 128.8 x 68 x 11.9 mm and weighs at 168g is expected to be available for AT&T customers and reach AT&T stores in coming months. However, the price of the smartphone is not yet announced.