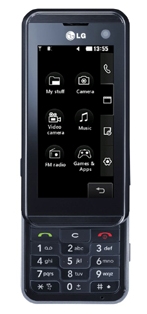 Korean mobile phone maker, LG Electronics, unveiled its latest mobile phone, KF-700 at the Mobile World Congress trade show lately. The latest slim, stylish design and slider type phone, LG-KF700 features multiple input methods. It has a large, high resolution, 3-inch-touch screen for immediate touch screen input. Users also can use keystroke saving shortcut dial and numeric keypad for input. The LG-KF700 also comes with powerful multimedia featured which includes a full web browser, digital audio and video players as well as handy widgets.

Touchscreen is a growing trend in mobile industry. LG is confident that the KF-700 will be successful. LG other trendy phones, LG's Chocolate and Prada phone models have been very successful on many developed markets and LG, the world's fifth largest mobile phone maker, said last month it aimed to increase its global phone sales by around 25 percent this year, to 100 million handsets.
Read the press release from LG.