LG Electronics has just announced a massive recall to its LG150 series mobile phones being sold in Canada market recently due to failure to comply with Radio Frequency specification. According to the Korean mobile phone manufacturer, this is purely a proactive action that being taken to ensure consumer satisfaction and safety concern and they are continuously working with their service providers to complete the recalls effort.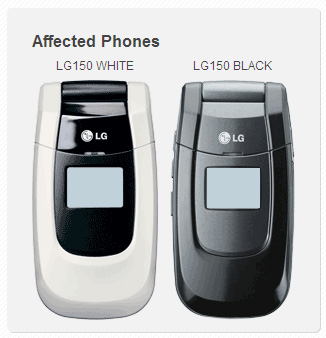 To be specific, LG150 failed to meet RSS 102 (Radio Standards Specification 102) – Radio Frequency Exposure Compliance of Radiocommunication Apparatus which stated the acceptable radiation exposure level to mobile users. The company further disclosed that it only happened on certain batch manufactured between August 2007 and February 2008. In case you are one of the LG150 owners but not sure whether your unit is affected, just check the serial numbers printed on the label behind the casing if it is fall between 708XXXXXX to 802XXXXXX (First digit represent year; second and third digits represent month).
The replacement program is currently on-going and those affected users can get a free unit exchange before end of March 2009. Please refer to LG website or call 1-866-940-6580 for more information and returned procedures.